You've Created an Excellent SaaS Tool. What Now for Your SaaS Growth?
Software product development and Entrepreneurship are worlds apart.
Yet, many SaaS Founders have excelled at building SaaS Tools and built successful companies around that product.
Being a SaaS Founder, you took an idea and created an excellent SaaS Tool. Your SaaS product is unique; it solves a critical pain point for its users. Your SaaS Tool may not be perfect right now. And it does not need to be perfect.
So, you have an excellent SaaS Tool in your hand. What now for your SaaS growth?
The logical next step is to launch your SaaS product in the SaaS Market.
Once your audience gets to know your SaaS Tool, you only need your target audience to take a look at your SaaS Tool to realize the utility of your SaaS Product.
Your SaaS Tool and your SaaS Start-up need to grow consistently to evolve and scale up. If you are a SaaS Founder or just started your SaaS Start-up company, you should know that rapid scaling is necessary to keep up with the SaaS Market.
The Need for Rapid SaaS Growth
The worth of the global SaaS Market is $3trillion worth at present. It is expected to grow to a $10trillion value by 2030.
The entire SaaS industry is fueled by rapid growth. And any SaaS company, not just start-up companies, hoping to hold their place in the SaaS market needs to grow and scale with it. Though it sounds like it, it is not an exaggeration.
A study by McKinsey reports that if a software company grows by 20% annually, there's a 20% chance that it will fail in 3 years. It means two things for any SaaS Entrepreneur.
Rapid growth is necessary for your SaaS Start-up to sustain itself in the SaaS industry for a complete business cycle. Two, you must attain flywheel growth by scaling up your SaaS Start-up over a period.
The flywheel growth model helps you build momentum with your SaaS Start-up growth. It offers a SaaS company a margin of protection from short-term disruptions, which are common in the SaaS industry.
You need to push for rapid growth and look to scale up your SaaS Start-up once you launch your SaaS product in the market.
As a SaaS Founder, you will need to focus on brand building, higher customer acquisition rate, customer retention rate, and consistent product development, among several other things.
Each of these objectives comes with its challenges that make consistent growth a distant dream for many SaaS Start-up companies.
Challenges in Scaling up Your SaaS Start-up
A Start-up will demand its Founders to work on the challenges day in and day out. It is in addition to the day-to-day operations.
It can be finding ways to improve operational efficiency, identifying the brand voice for your Start-up, or Optimizing your marketing process to reach the target audience.
And since you also need rapid growth for your SaaS Start-up, you'll face a set of challenges specifically for this goal. Here are some of the major challenges that you will face as a SaaS Founder.
1. SaaS Product Validation
SaaS product validation is the first and undoubtedly the most important challenge when you look to scale up your SaaS Start-up. It is because if your SaaS Tool is not something your audience wants or is ready to pay for, scaling up your SaaS Strat-up will be a pipe dream.
You may have a great idea, but unless you validate it, you cannot expect people to buy into it. You should find out what your SaaS tool does for your target audience.
Can your SaaS Tool help your target audience?
Does your SaaS tool help solve a problem for your target audience? Or does it simplify a SaaS process for your target audience?
It is challenging for a SaaS Founder to identify the value and the potential of their SaaS Tool until they get validation from their target audience.
2. Reaching Your Target Audience
Reaching their target audience of users is the most obvious and the most challenging goal for a SaaS Founder.
Your SaaS Start-up needs to reach out to a large number of customers in a short period to scale quickly. It means you should invest in marketing activities like advertising, content creation, social media campaigns, and any other customer hyper-growth strategy.
If you do not know how to reach your target audience, then you will have no way of identifying the areas you need to improve. It applies to both your SaaS Tool and your SaaS Start-up as a business.
This goal only seems impossible if your team does not include any growth marketers who can navigate through the competitive market.
3. Building Brand Awareness
Building awareness about your SaaS Tool or your SaaS Start Up is another big challenge for a SaaS Founder. Not every customer buys a product; they buy ideas; they buy brands.
For start-up companies, especially SaaS start-up companies, building brand awareness may not look like a priority. But if you do not build brand awareness from the beginning, your marketing efforts will not give a good ROI.
Despite reaching millions of potential customers in the efforts to scale up your business, your conversion rate is likely to tank.
The reason why it is so difficult to build brand awareness is that there are thousands of SaaS tools available in the market today. And even though your SaaS Tool has been built by an expert team, it still faces competition from similar products.
They can make your SaaS product one among many and forgettable. But as a Brand, you stand out and become noticeable and trustworthy.
The best way to overcome this challenge is to create a unique selling proposition (USP) for your SaaS Tool.
4. Raising Capital
Raising capital is one of the biggest challenges faced by a SaaS Founder especially when you are looking to scale up your SaaS Start-up.
There are many reasons why SaaS fundraising is hard for SaaS Founders. One of them is that you are competing against established companies with deep pockets.
If your growth marketing strategy is highly dependent on paid ads, it is a high-risk strategy. It is because they do not return good results as an isolated strategy. Also, a paid marketing campaign from a well-funded SaaS company could carpet bomb the same marketing channels and drown your brand.
Bootstrapped SaaS Start-up companies find funding to be the root hurdle to overcoming all the other challenges.
Commonly referred to as the Catch-22 of SaaS Start-up companies, it forces them into a deadlock situation that prevents them from scaling up quickly.
5. SaaS Product Development
Product development is also a huge challenge for a SaaS Founder.
They often struggle to develop their own SaaS tool due to a lack of time and resources.
Being a bootstrapped SaaS Start-up, you might not have enough money to hire a full-time developer. And if you are a developer, you will find yourself caught up between managing your business and finding ways to scale up quickly.
During this phase, SaaS Founders lose their grip on the core function of their SaaS Start-up—product development.
You either go for outsourcing or use open-source software. The problem with outsourcing is that you have less control over product development after you hand over the keys to someone else. Also, you need funding to backup outsourcing for an extended period.
On the other hand, you might have to venture into unreliable areas with the open-source software since they are not always well-documented.
Challenges such as these are the common ones a SaaS Founder faces when they make a move for growth. As a bootstrapped SaaS Founder, you might have other challenges unique to your situation.
How to Scale Up Your SaaS Start-up Quickly?
Though there are many growth challenges, there are also growth strategies that have worked for many SaaS Founders.
Go with the growth strategy or a combination of growth strategies that works the best for you.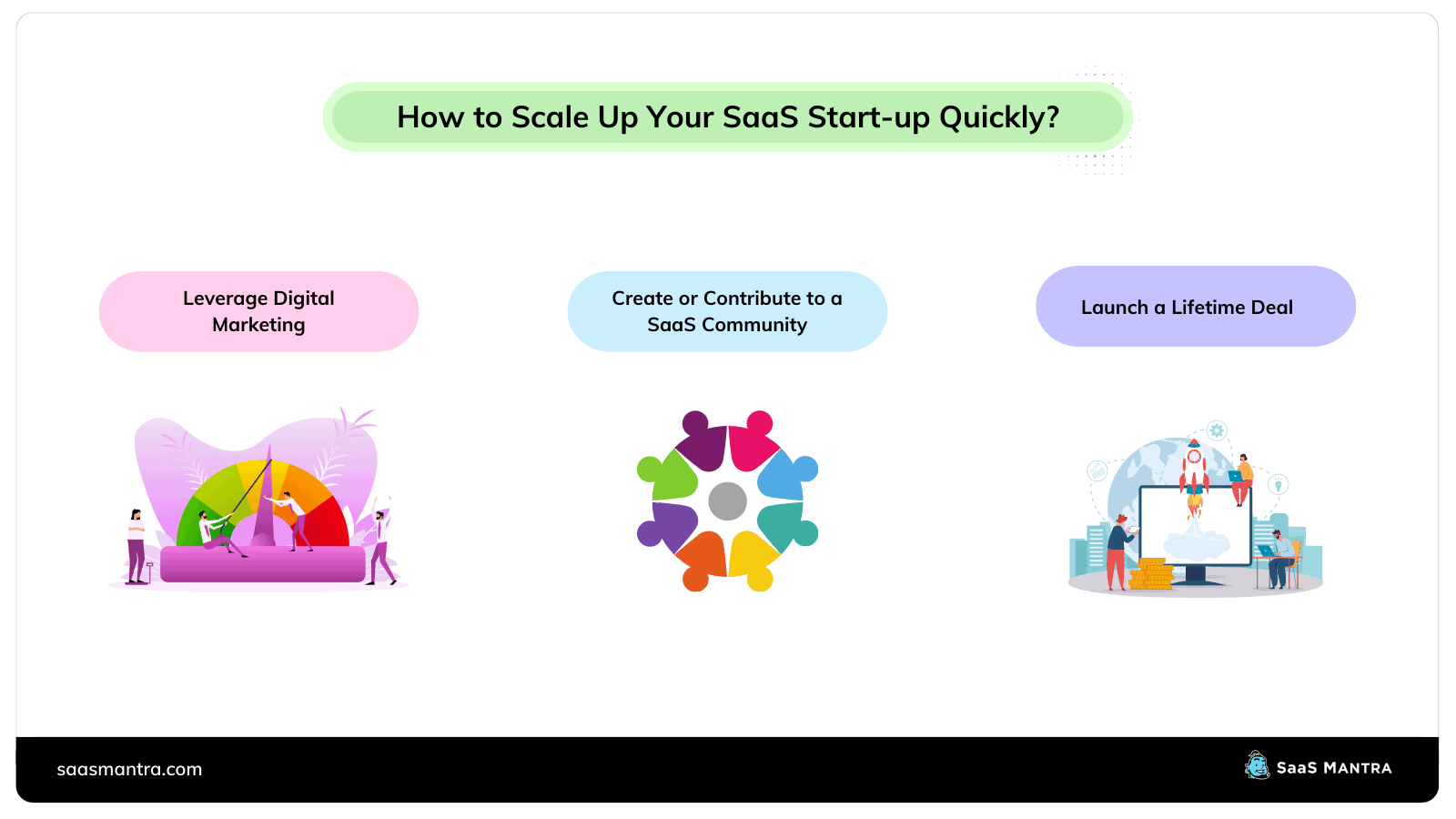 Leverage Digital Marketing
Digital marketing is a powerful growth strategy with diverse channels that can help you grow your SaaS Start-up.
Here are some digital marketing strategies that work great for SaaS Founders: Content Marketing, Social Media Marketing, Email Marketing, SEO (Search Engine Optimization), etc.
Content marketing is a great way to start with digital marketing for your SaaS Start-up. You can start with content marketing in blogs, social media, and email campaigns.
The key to leveraging the power of digital marketing to grow your SaaS Start-up is creating customer-centric (user-centric) content. As you begin to distribute user-centric content that talks about their problems, experiences, solutions, and success stories, you can pull your target audience.
You can plan and execute several different marketing and branding strategies within digital marketing to drive more users to your sales page. It can be your primary lead generation source to increase your user acquisition consistently.
One common challenge with digital marketing for your SaaS Start-up is that it often takes time to see excellent results. Yet, user-targeted digital marketing is a must for any SaaS Start-up that wants to experience incredible growth.
Create or Contribute to a SaaS Community
A community of like-minded people sharing similar interests and goals is one of the best things to happen to your SaaS Startup.
When you create a community around your SaaS Startup, you get feedback from your customers and prospects. It helps you understand what they want and how they think.
Moreover, when a group of people with shared interests come together and discuss ideas, it initiates conversations. It can help you get into reliable marketing lead generation channels—word-of-mouth referrals.
SaaS communities also tend to attract more like-minded people to become a part of the community. Also, the value your community creates over a period contributes to building your brand value and awareness.
The only catch is that creating a community, or bringing together a group of people that share and want to contribute to a common idea is a big challenge. You can, however, join an existing SaaS Community and contribute to it.
Launch a Lifetime Deal Campaign
Launching a lifetime deal campaign is another effective growth approach for your SaaS Start-up that has been proven to work well for other SaaS Founders.
This is a very simple but effective growth strategy that can give you a competitive advantage over others.
It's not easy to launch a lifetime deal campaign because it requires a lot of planning, preparation, and execution. But if you do it right, you can reap huge benefits.
Is your SaaS qualified to run a Lifetime Deal campaign?
Not every SaaS Start-up can run a SaaS Lifetime Deal campaign; neither can you run a Lifetime Deal campaign at any stage of your SaaS Start-up. It needs careful planning and a strategy to follow after running a successful campaign.
Always remember that running a SaaS Lifetime Deal campaign is not a marketing strategy. Instead, it is an event that can trigger the growth necessary to scale up your SaaS start-up quickly.
Hence you must prepare ahead while launching a SaaS Lifetime Deal. You can also talk to experts and SaaS Founders who have run a Lifetime Deal Campaign before you launch one.
Final Word
The above-mentioned growth strategies are just a few of the many ways you can scale up your start-up.
Ideally, any bootstrapped SaaS Founder would prefer immediate growth as they work towards business expansion. However, it is not how the growth happens in most cases.
The quick growth for your SaaS Start-up is more like cutting down a tree rather than climbing the stairs.
Even with the right growth strategies, SaaS Founders do not see sizeable growth for an extended period. It takes a specific breaking point for every SaaS Founder like you to trigger rapid growth that is also sustainable for their SaaS Start-up business.