6 Marketing Automation Areas to Help Scale Your Business
Marketing automation coordinates marketing campaigns and orchestrates timely content distribution over designated channels.
Automation in marketing applies across multiple channels.
6 Areas for Effective Marketing Automation:
Marketing automation is also effective in upselling with recommendations on mobile and online purchases.
Marketing automation tools like HubSpot or MailChimp break down the automation process into specific actions.
1. Email Marketing Automation
Automating your email marketing or lead nurturing campaigns is the first thing you probably want to automate.
It could look like an email from a dentist reminding you to schedule your next appointment; or an email from the salon asking for feedback after your recent visit.
2. Lead Nurturing Automation
For lead nurturing: you can set up funnels that trigger automated emails as leads progress through the sales funnel.
It could look like a series of emails you send after collecting a Lead's information on your website.
It may start with an email of the general information about your business and a way to contact you. The second email could be a short educational piece of information and a testimonial.
And finally, an email offering a discount for the customer's next purchase or appointment.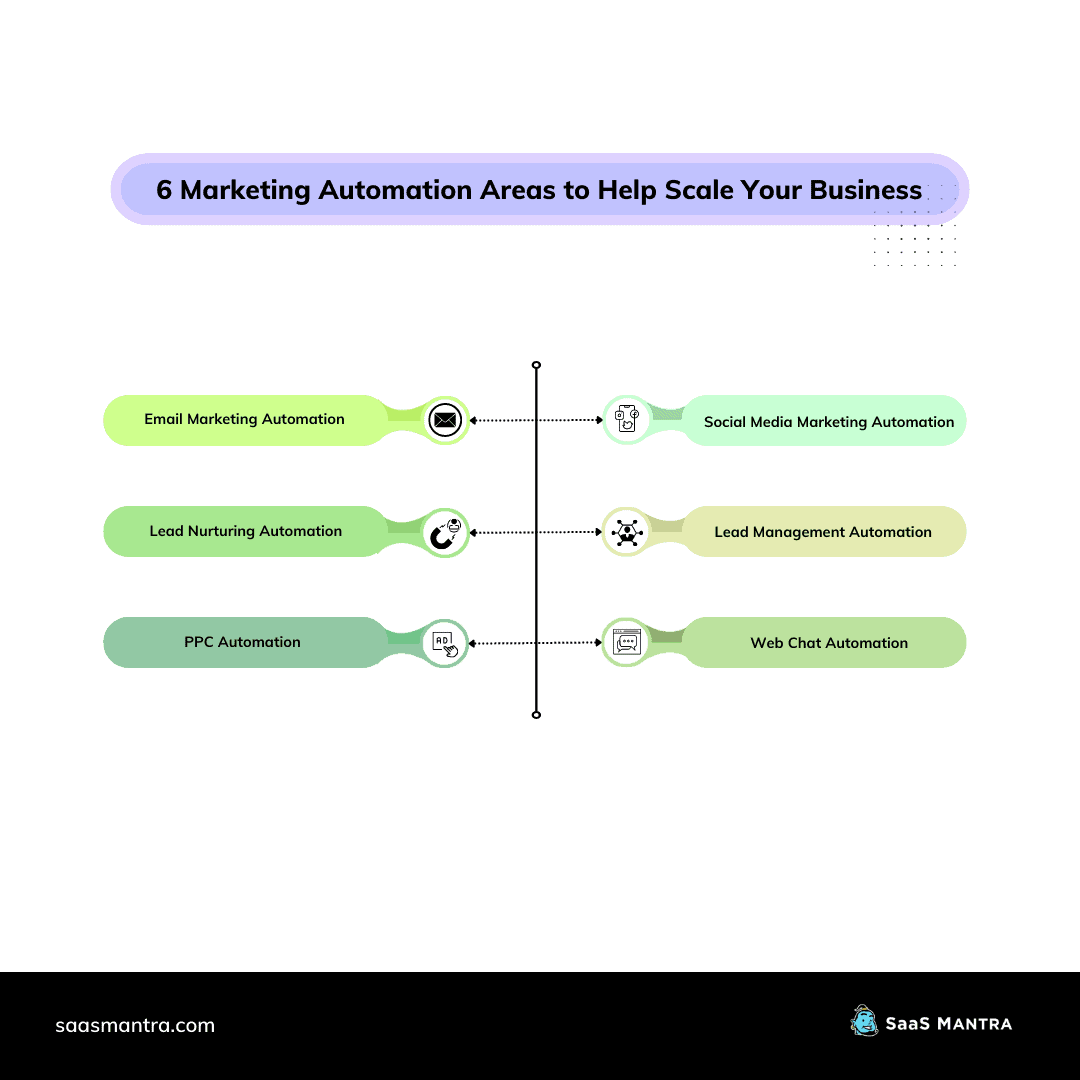 3. PPC Automation
You can optimize your PPC campaign by distributing your budget to different keywords, search engines, days/times, and locations that drive the best performance for your business.
So instead of analyzing the data yourself, automation saves time, expertise, and trial and error.
4. Social Media Marketing Automation
You can automate your social media marketing by using social scheduling tools.
Social media tools like FeedHive and Buffer can schedule your social media posts in advance, automate posting, and help monitor your posts, mentions, and comments across multiple platforms.
Automating your social networking means you can focus on creating content without spending time posting them manually.
5. Lead Management Automation
Tracking your leads without the right tools or software in place can be challenging.
With automated lead management, you can track all your leads and customers in one place. You can see how they found your business and details about each customer.
6. Web Chat Automation
Webchat makes it easier for leads to get in touch with you.
You can increase your chances of converting web visitors into customers by collecting contact information via web chat.
Use live chats or AI chat tools to automate this process for your businesses.
Scale Up with Marketing Automation
The benefits of marketing automation is still widely undermined by businesses, especially SMEs.
A Salesforce report says there is up to 450% increase in qualified leads using Marketing Automation to Nurture Leads.
Increase the quality of prospects for long-term business customers by automating core marketing processes with SaaS automation tools.