Best Lead Capture Strategies to Convert Visitors into Leads Quickly
You can classify lead generation into two broad categories: Inbound lead generation and Outbound lead generation.
One of these two takes active effort from digital marketers—Lead Generation via Content Marketing practices.
The inbound lead generation, though passive, can be optimized to generate more leads.
Lead Capture Strategies to Convert Visitors into Leads
Offering gated content, i.e., Lead Magnet is undoubtedly one of the best ways to generate leads from your website visitors.
However, it is not the only way to capture leads from your website visitors.
Here are some simple and effective lead capture strategies to convert website visitors into leads.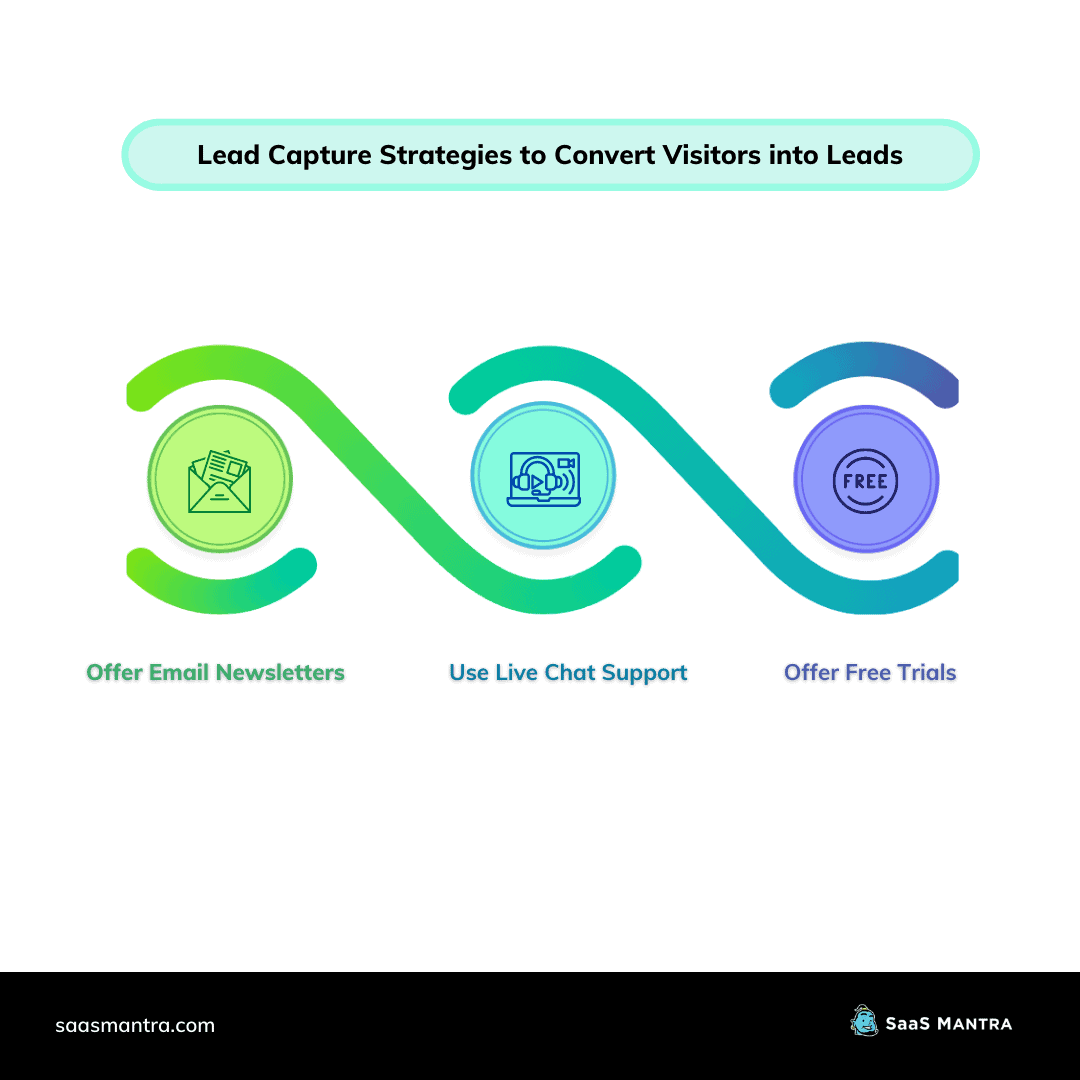 Offer Newsletters
Newsletters are a great way to keep in touch with your leads and customers with the latest curated content.
Offering regular newsletters with useful information about your company or products/services helps with Lead Nurturing.
It helps you build brand loyalty among your existing customer base and attract new ones.
Email marketing has become an integral part of the digital strategy of every business. It is also one of the easiest ways to reach potential customers.
You can add a signup form field on your website or blog for a newsletter subscription.
It allows you to convert a random website visitor into a lead while offering curated content and updates to them over email.
Make Use of Live Chat
Some visitors may be looking for quick answers, typically to inquire about your products/services.
Offering Live Chat on your website to answer visitor queries is an effective solution.
Live chat is also a great way to engage with your web visitors and turn them into leads.
It allows users to interact directly with your sales team by answering their questions and providing solutions for their problems.
Place a lead capture field in the Live Chat area to allow your visitors to talk to a representative.
It allows for easy lead capture from your website visitors.
Moreover, since they are already looking for an answer, they are easy to convert. Also, getting your Lead's contact information beforehand allows the representative to get with solving problems than asking for the visitor's contact information.
Offer Free Trials
Free trials are another great way to convert website visitors into qualified leads.
Offering free trials allows prospects to try your product without committing to anything. They will have no reason to leave if they don't like what they see.
On the other hand, you get an initial audience to get valuable feedback that you can use to improvise your product. It is in addition to the opportunity to convert your visitors into leads.
If the prospect likes what they see, they can opt for a paid subscription.
You can also reach your prospects with targeted marketing.
Final Word
Lead Generation is a crucial component of any successful online business.
There are many different ways to generate leads. But some methods work better than others.
The key is to find the right balance between generating enough leads and converting them into paying customers.