Having a verified Twitter handle is like having a Golden Staff for a Digital Marketer.
It denotes authority to your audience and everyone else using the platform.
Table of Contents:
Twitter estimates that the fake and spam accounts are fewer than 5% of users. Many think that 5% is not even close.
Without a verified badge, it can affect your social media marketing efforts.
But Twitter doesn't hand them out to everyone applying.
So, how can you get one for your Business Twitter?
Check out our 7 Meaningful Ways to Increase Your Followers for Twitter
Twitter Verification for Business Accounts
Even though anyone can apply for a Twitter verification, Twitter doesn't verify everyone who applies.
Twitter specifies 7 account categories for verification.
They are Government, News & Journalists, Entertainment, Sports, Activists & Organizers, Influencers, and Businesses. Each of these categories has specific requirements to get a verification badge.
What can Verified Twitter Accounts Do?
A verified Twitter account sets your business apart and above impostors and fake accounts.
It will instantly grab attention and get you more followers. Meanwhile, it also contributes to the trust factor in your audience.
Besides, your account will have a "Verified" tab in the notification section as an added feature.
It helps to keep your interactions with other verified accounts—notable personalities—on Twitter separate.
Where to Apply for Twitter Verification?
You can apply for Twitter verification from your Twitter mobile or web app.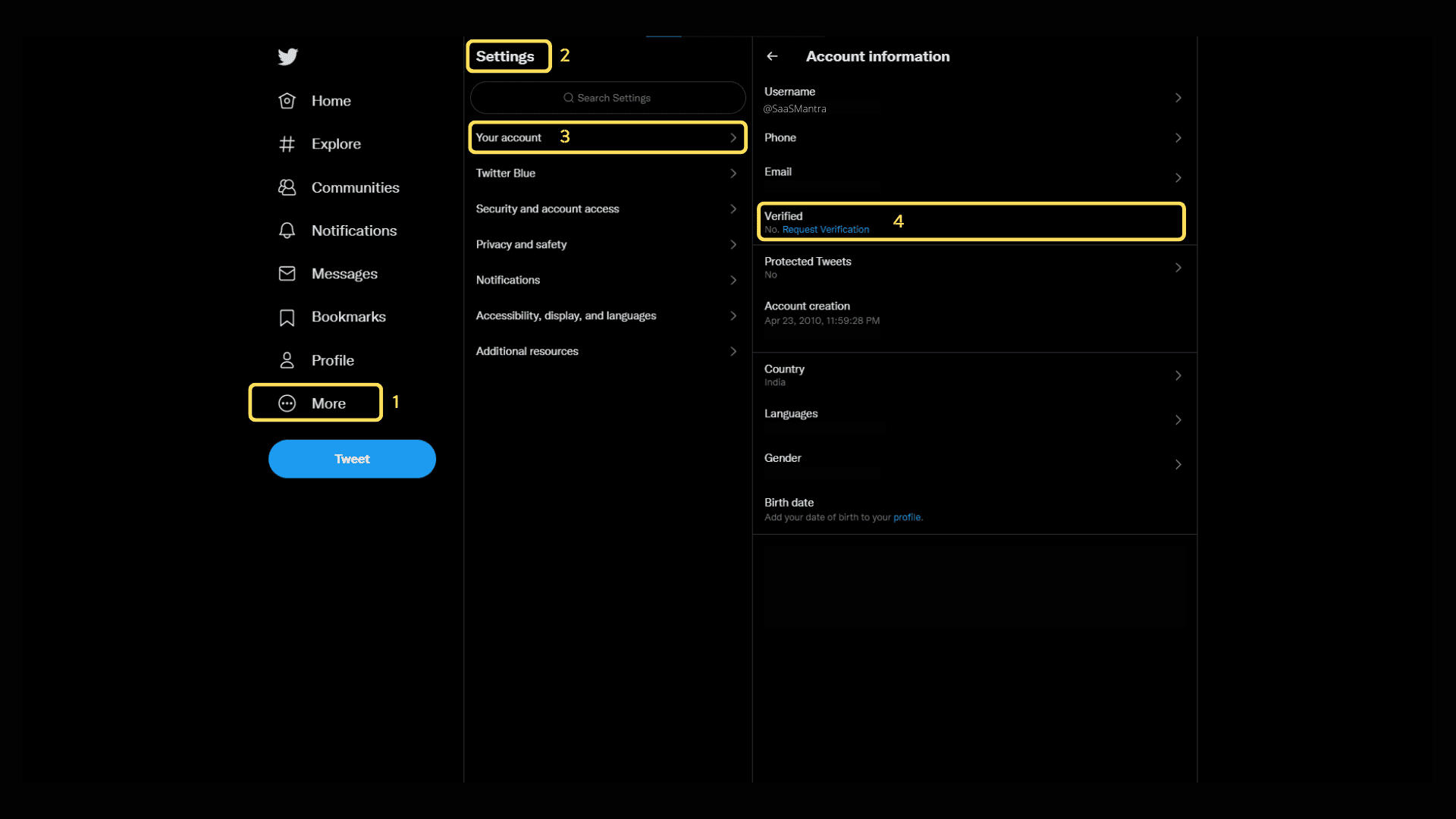 Steps to Apply for Twitter Verification:
Log in to your Twitter Account
Click Settings and Privacy from the Menu
Click Your Account
Click Account Information
Confirm Your Password
Click Request Verification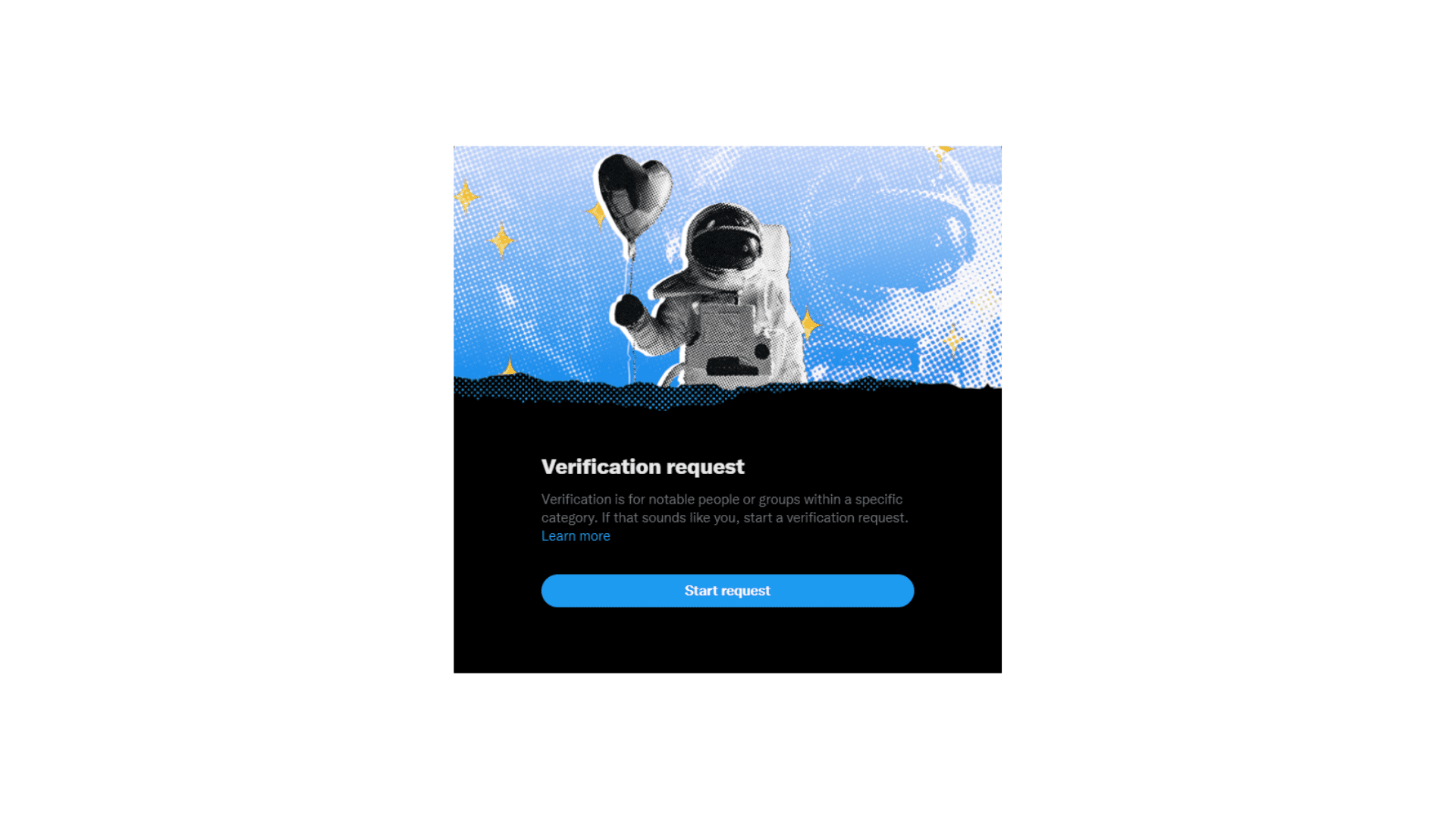 Once you click Request Verification, you'll see a screen detailing who can request verification with a Start Request button at the bottom.
However, your account needs to satisfy a few criteria for verified Twitter account.
Twitter Verified Account Requirements
Your Twitter account will qualify for a verification badge by satisfying the Twitter requirements.
The requirements are that your account should be,
Authentic
Notable and
Active
Twitter specifies how your business Twitter account can qualify for each requirement.
How to Verify Your Twitter Account?
Authentic:
Twitter needs to know that you are the authorized person to represent your business on Twitter.
To ensure authenticity, Twitter verifies identity via a link to the official business website.
Also Check out for saas business marketplace platform
Notable:
Your business should also be notable among the Twitter community and beyond.
It may be a news article about your business from a recognized organization. Or a stable Wikipedia article about your business. Or any other criteria that Twitter specifies.
To confirm the notability of your Business, Twitter often considers multiple signals.
And it also answers one of the most asked questions.
How many followers to get verified on Twitter?
Twitter provides no definitive number. However, if your Twitter account is in the 0.5% of followers (or mentions) count for your geographic location, it may consider your account a notable one.
To improve your chances of successful verification, pay attention and improve your business's notability before applying.
Active:
To consider your Twitter account active, it needs to satisfy certain conditions.
Must have a profile name and a profile image.
Must have a confirmed email or phone no.
Should have been active in the last 6 months from the day of applying for verification.
Must not have violated Twitter Rules and served a lock-out period.
Ensure that your business Twitter account qualifies for these 3criteria before applying. Applying for verification too soon may make you ineligible to apply for another 30 days.
Read in detail about Twitter Verified Accounts to increase your chances of verification.
Get Twitter Verified
Notability may be the only challenge to getting your verified account badge for your Twitter business.
Two of the easiest ways to improve your brand notability is to post engaging content consistently and collaborate with already recognized organizations.
But if you are already an established brand outside Twitter, quickly apply for verification and get one for your Twitter handle.