Top 6 App Editor For Instagram Stories in 2021
Curious to know about the best apps for creating brand stories on Instagram? Just wait! It may be an engaging video for Facebook, or a series of tweets scheduled for a week, or an informative blog for the LinkedIn turnout.
Connecting with the audience and providing an unforgettable experience every time is the ultimate goal that business endeavours to achieve. By means of, leveraging the native and unique features of the social media channels.
Why Instagram Stories are important?
After the introduction of Instagram stories, it becomes easier for businesses to amaze their customers when they interact with their brand. Sidelining traditional posts on Instagram, stories allow you to post frequently without flooding your wall.
Stories help you to boost your brand awareness and increase your customer engagement by featuring at the top centre of your page. Now, businesses can use Instagram stories free of cost and it may change any day later.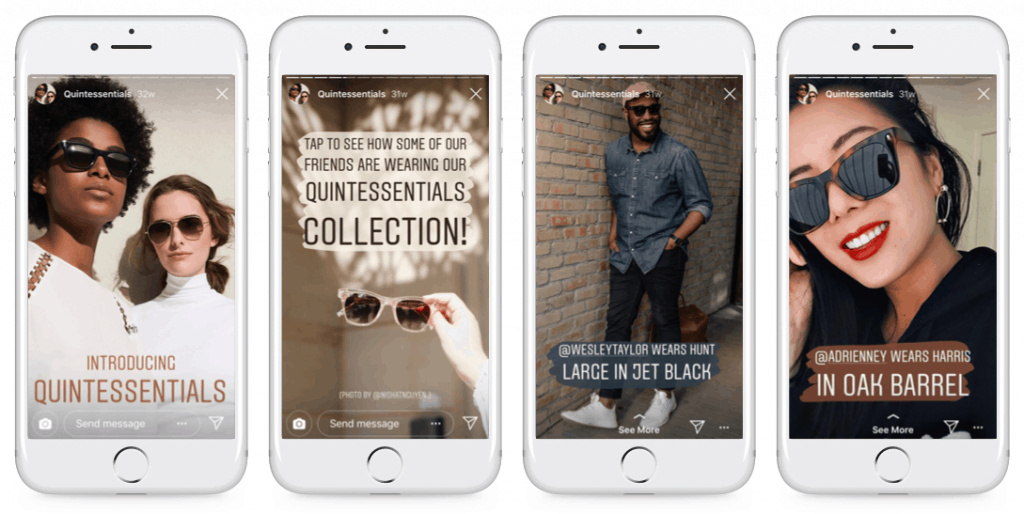 Source : Instagram
According to Instagram's internal data released in January 2019, over 500 million people are using Instagram Stories every day. There is no wonder about brands hopping into Instagram stories.
Instagram has launched branded content tools on its official page to regulate the marketing of the business accounts.
A study from Statistica states that 200 million users are active every day on Instagram, and it is 813 million every month.
The most important aspect of creating Instagram stories is selecting the best templates. Check out these, 650+ Awesome Instagram Stories Templates that make your stories more appealing and interesting.
This blog is specifically created for people who wonder how to make an Instagram story ad. And, for those who search for the best apps for building unforgettable Instagram stories too. Here you go, the best apps for creating brand stories on Instagram.
1. Buffer
The story creator presented by buffer facilitates you to create attractive content for Instagram stories quickly. The simple interface makes social media marketers go over the top of the world, literally.
It helps them to create content for building brand awareness and driving conversions on social channels.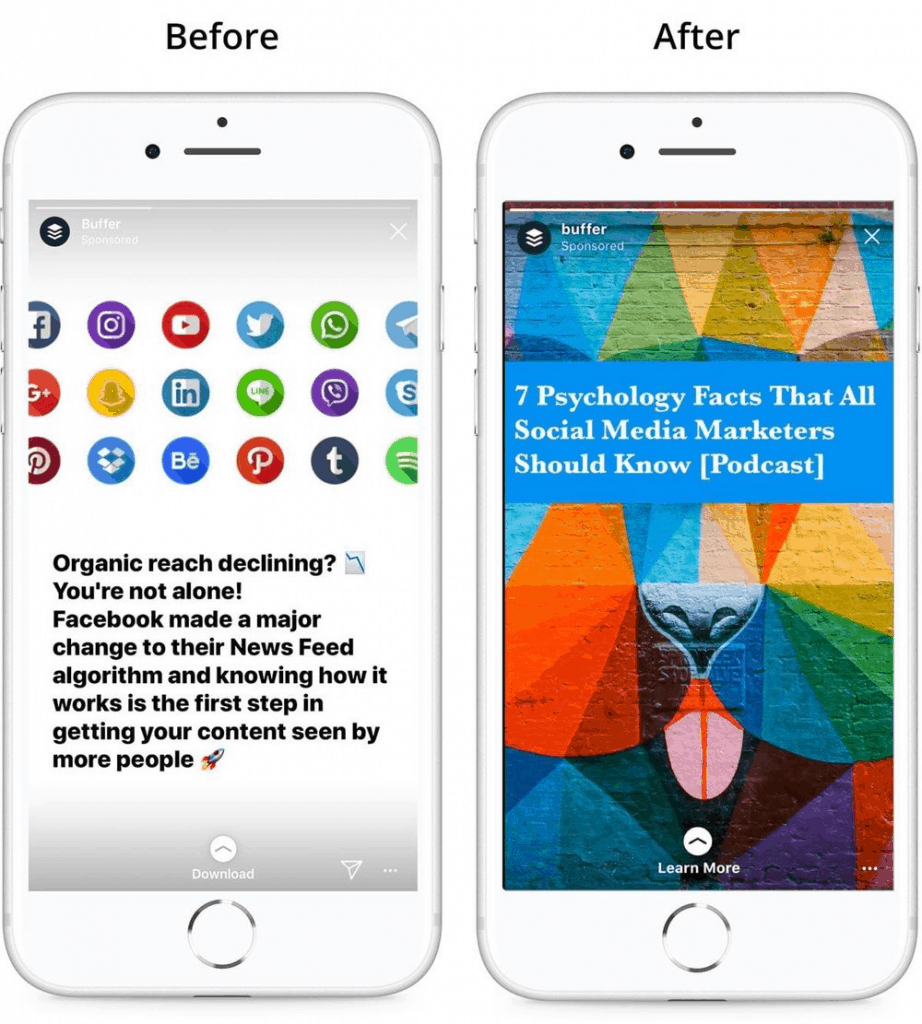 Source: Buffer
More than 60% of Instagram users are between 18 and 34 – Statistica
This stat will definitely make you understand why you need Instagram Stories. From tech-savvy enterprises to start-ups who don't even know how to create Instagram Stories ads, "Buffer" is a good-to-go tool for Instagram Story marketing.
And, one of the best apps for creating brand stories on Instagram.
Best Suitable for:
Storyboard creation for posts, draft captions creation, and Instagram Stories scheduling.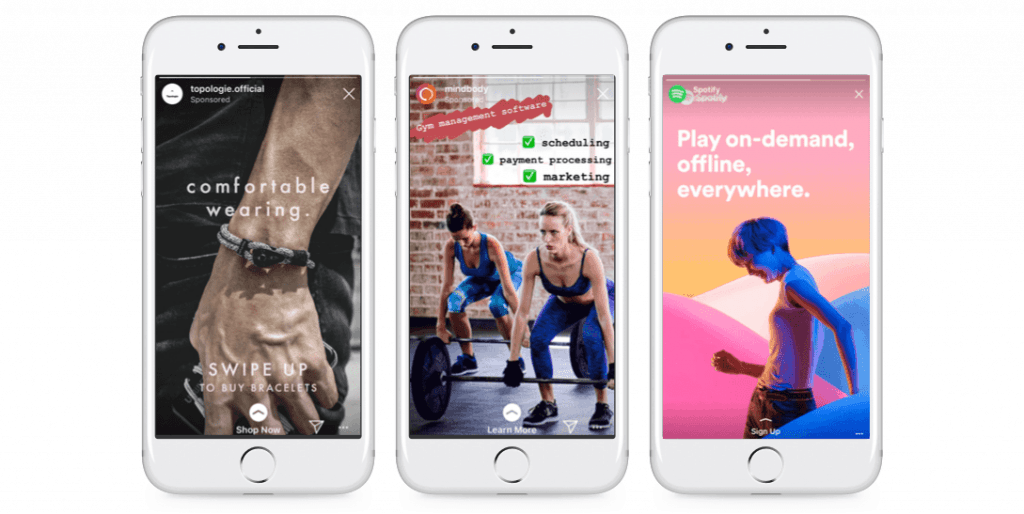 Source: Buffer
2. Canva
The Instagram story maker from Canva offers thousands of stylish templates to explore with. It sets you free to add colour, style, and feature.
Canva's simple design tools allow you to create stunning Instagram stories in contrast to the plain videos and still photos. Canva app gets your videos an excellent look even if it is shot candid on your mobile camera.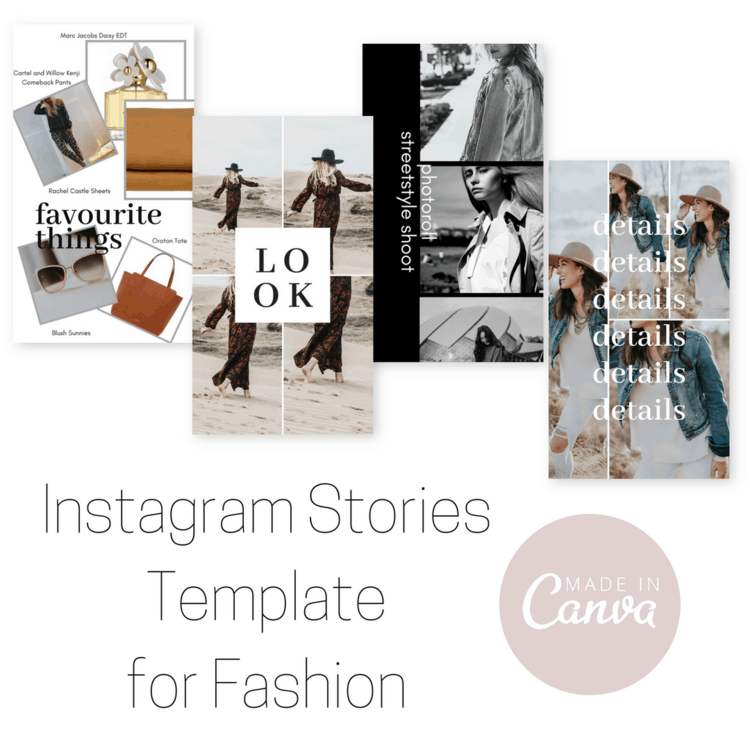 Source: Canva
As businesses contribute to one-third of the most-viewed Instagram Stories, you need to maintain the same template for a series of stories. This goes well along with your logo and brand's colours to create on-brand stories for Instagram.
Thus Canva makes you successfully perform the job of a professional graphic designer, for instance.
Best suitable for:
Creating graphs and editing photos of any type.
3. Unfold
Unfold splashes creativity like bottles of champagnes for the brands who want to leverage Instagram Stories Ads. It gets your photos an impressive look with powerful light effects, elegant templates, classic frames, and shredded photo edges.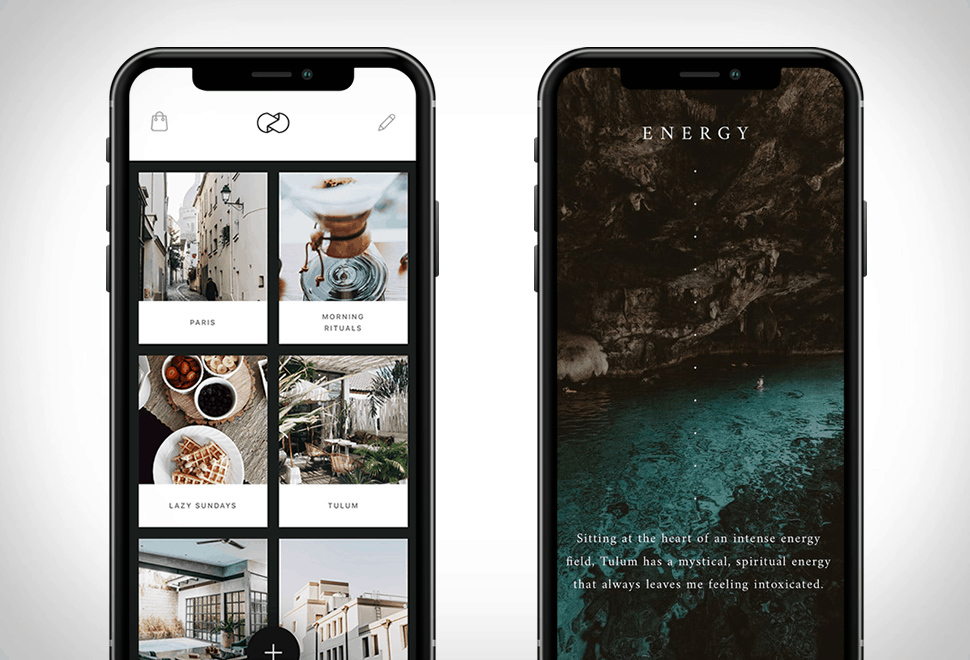 Source: Unfold
Unfold is a perfect application for picture collages. You can perfectly create stories with multiple images on one screen using its templates. There are a wide arsenal of stock images and exceptional text overlay features on Unfold.
This paves the way for brands to take advantage of Instagram stories. Establish a connection to the sequence of your Insta stories with Unfold's cohesive style and formatting design options.
As a result, Unfold becomes one of the best apps for creating brand stories on Instagram.
Best suitable for:
For creating Lifestyle, Fashion, and Travel content.
4. Mojo
Create your brand stories with amazing videos and animation on Mojo. This video editing stories app inspires you to add a punch to your video edits with its wide selection of music tracks.
Creating short, engaging, and fun videos become a cake-walk with Mojo relieving all your stress of branded video production. Make your stories stand out on Instagram with tons of editable video templates and fully animated & customizable text variations!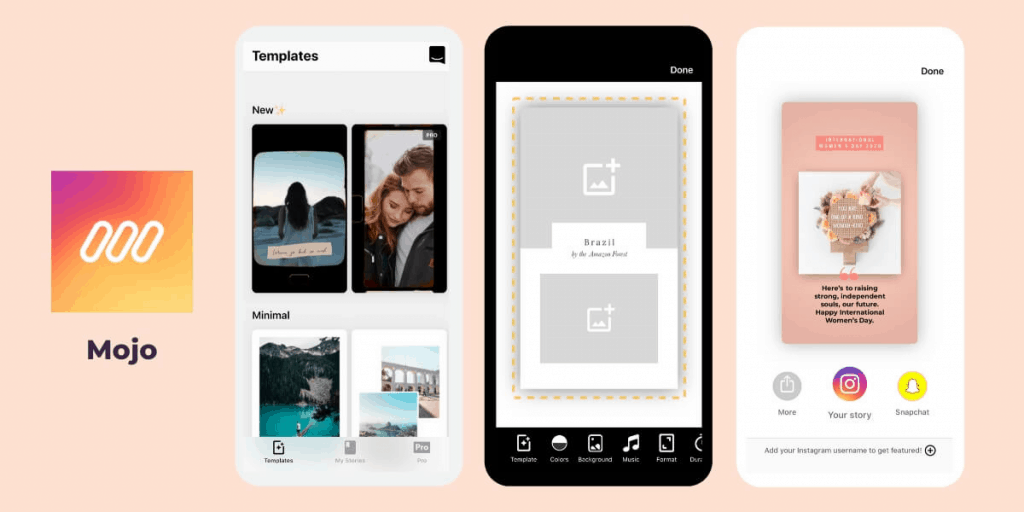 Source: Mojo
The innovative updates and game-changing templates make Mojo the best tool to create video stories for Instagram.
Best suitable for:
Vertical storytelling
5. Over
Over is the most powerful app for generating impressive stories content on Instagram. Build your brand with its exclusive templates for Instagram stories, add text, and upload photos or videos of your choice.
Maintain your brand guidelines and keep up the quality of your logos, fonts, and colour palettes with this tool.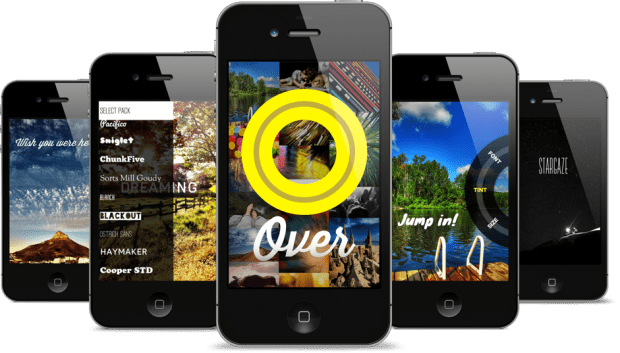 Source: Over
With amazing backgrounds and style, Over makes you get rid of your tedious photoshop work that is going to vanish in 24 hours.
Over addresses all the questions of the brands like "How to share your Instagram stories to your Facebook page", "What are the Instagram stories formats", etc.
Because it offers automated posts scheduling features and useful tips from pro designers and branding experts.
Best suitable for:
Designing creative (eye-catching) Instagram stories
6. Storeo
The last but not least, on the list of best apps for creating brand stories on Instagram. Storeo is greatly suitable for the brands who are planning to go for longer videos.
You can create longer stories for more than 15 secs by shooting a long video or using your pre-shot videos. Storeo helps to break your long video into 15-sec increments without losing the continuity.
As a result, you can create thumb-stopping Instagram stories ads. A recent study states that 50% of the businesses worldwide create at least one story every month on Instagram.
So, get the most out of Instagram stories without digressing your audience through seamless videos on Storeo.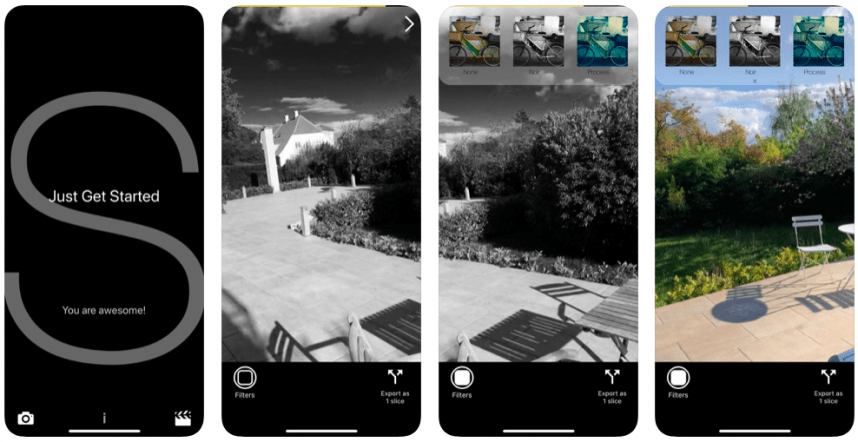 Source: Storeo
Best suitable for:
Creating longer stories more than 15 secs.
Stories on Your Website – An alternative to Instagram stories
Hope you've got a clear picture of the best apps for creating brand stories on Instagram. In a scenario where people pay attention only for a short time, telling interesting and dynamic stories within seconds becomes vital for the businesses.
Stories are not only meant for Social Media, but you can create them on your website too.
You can keep your visitors informed about what's new with you and know about lifetime software deals!
Story Widget, a no-code story creation tool for your website is going to be launched soon. It will become really easy to create your stories in seconds & Embed them into your website.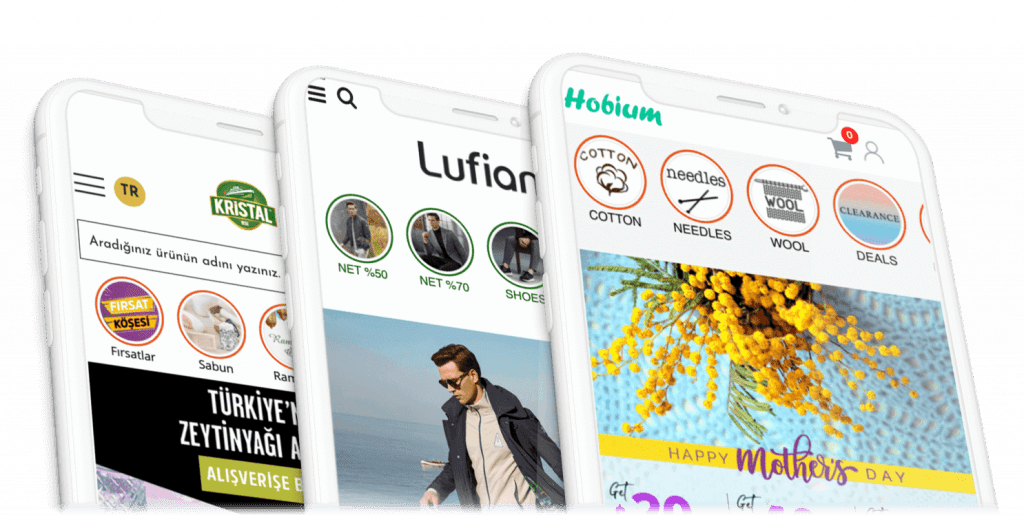 Source:Story Widget
Stories need not disappear in a day. You can keep them for a long time by setting up the duration, and even schedule them for your seasons, in advance.
You can also integrate your story widget with Google Analytics and track your story stats. Excite your customers with captivating stories on your website.
Take away
A breath of fresh air has been introduced to social media through Instagram Posts. The format has exploded across platforms, which demonstrates that this style of in-the-moment content is in demand. It's so much fun to create Instagram Stories, and when you can keep it fresh using multiple methods, it becomes even more exciting.
Don't restrict yourself to features available on Instagram. Expand your imagination and explore a number of different resources to keep your content fresh without wasting hours of time.
Discover freedom from restricted social media features. Grab the lifetime deal now!
For more such interesting and trending blogs subscribe to our newsletter.
Checkout our saas marketplace platform